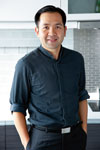 LING Ho Wan, Howard
Howard Ling is the Chief Consultant of Social Enterprise Business Centre, which is funded by the Partnership fund for the disadvantaged, HSBC, and the Hong Kong Council of Social Service. Howard began his social entrepreneurial journey in 2004. He founded several social enterprise vegetarian restaurants such as Harvester, Happy Veggies, Bijas, Ateen, Goodnuts, and Happy Ours. These social businesses employ different underprivileged groups according to their strengths not weaknesses. Howard also serves as a consultant to many social enterprises in Hong Kong and Macau. In addition to the funding channels for business startup and expansion, he offers the social enterprises a wide range of solutions in terms of planning, execution, accounting, human resources and sustained developments. He has helped many non-profit organizations to set up more than 30 social enterprises, which employ over hundreds of the disabled people, including those of visual and hearing impairments, physical handicaps, and autism. He was awarded the Medal of Honour (MH) in 2017 for his dedicated public and community service, particularly his contributions to the development of social enterprises.
Home Affairs Bureau (HKSAR) – Social Enterprise Advisory Committee Member (2009 to 2015)
Administrative Appeal Board – Panel Member (2015 to Present)
Ping Wo Fund Advisory Committee Member (2014 to Present)
Social Welfare Bureau (Macau SAR) – Consultant of Social Enterprise Scheme
Heep Hong Society – Executive Committee Member
Direction Association for the Handicapped – Social Enterprise Consultant
Mbaby Doula Social Enterprise – Director and Social Enterprise Consultant
Hong Kong Blind Union – Social Enterprise Consultant
The Yeh Family Philanthropy - Grant Committee member
Hong Kong Institute of Vocational Education (Shatin) - External Examiner
Baptist University – Adjunct Associate Professor
Howard Ling holds a Bachelor of Science degree from the University of Illinois, a Master degree in Business Administration from the The Chinese University of Hong Kong, and graduated from INSEAD Social Entrepreneurship programme.
SE Restaurants 社企餐館
Volunteer/Work 義工/工作